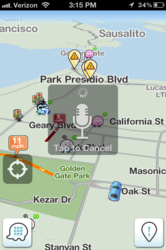 Palo Alto, CA (PRWEB) February 09, 2012
Waze, the now 12 million-strong community of traffic resisters, is announcing today the next breakthrough in the global fight against traffic: hands-free operation of its popular iPhone app. With the simple wave of a hand, drivers can now speak to navigate, report traffic, and alert others to potentially hazardous incidents on the road. With the launch, Waze hopes to set a hands-free standard for the future of the traffic-reporting industry, as well as any driver-focused products to come.
How it Works
Unlike other touch-activated speech recognition systems, the latest version of Waze uses the iPhones native proximity sensor to initiate voice control. When activated with a wave past the screen, Waze prompts the driver to speak the intended commands, without ever having to touch the phone or its screen. For example a spoken command of report traffic will prompt the driver to specify heavy, moderate, or standstill. Waze will then place that alert on the map, offering a drivers the ability to share details normally reserved for users in passenger mode. The new feature also understands destination-related commands such as drive home or drive to work, so drivers can continue to focus on the road rather than the screen.
A Completely Hands-Free Experience
In addition to Wazes new hands-free traffic reporting, Waze enhances the experience by allowing the use of Apples native Siri speech recognition for specific addresses as well as local search queries. To further ensure minimum driver distraction, Waze also disables text input into the app while the car is in motion. The result is a completely hands-free navigation experience for Waze drivers from start to finish.
Waze has found a touch-free means for drivers to safely interact with their traffic information while driving, said Roger C. Lanctot, Associate Director of Strategy Analytics Global Automotive Practice. With a swipe of the hand drivers will now be able to access the information they need and report on incidents they see. The implications for crowd sourced traffic information are significant.
Other Features in This Version
http://chiefimplementor.com/wp-content/uploads/2015/11/logo1.png
0
0
Robert Goodman
http://chiefimplementor.com/wp-content/uploads/2015/11/logo1.png
Robert Goodman
2012-04-29 10:08:35
2015-12-30 11:20:22
Waze Launches First Hands-Free Traffic Reporting for iPhone; Sets New Standard for Mobile Commuting