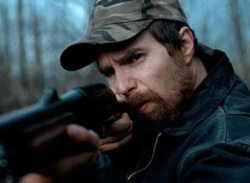 BIRMINGHAM, AL (PRWEB) April 03, 2013
The state of Alabama and Southeastern US will be represented in this year's Tribeca Film Festival as Alabama natives John Brooks Klingenbeck and Christopher E. Norris of Red Hill Entertainment will be on hand for the screening of their film, "A Single Shot". Based upon Matthew F. Jone's 1996 novel, "A Single Shot" will be a feature of the Spotlight Section of this year's festival.
Held in the Tribeca section of Lower Manhattan, the Tribeca Film Festival is a diverse international film festival supporting emerging and established directors. With founders including Jane Rosenthal and Robert De Niro, over 1,300 films from over 80 countries have been screened since the 2002 inaugural festival.
"This is an amazing experience, and we are very excited about what is looking to be a very busy and thrilling year for us as a company," said Red Hill Entertainment co-founder John Brooks Klingenbeck. "It's a lot of fun when all the hard work culminates into a finished product to go in front of a live audience."
"A Single Shot" stars Sam Rockwell, William H. Macy, Melissa Leo, and Jeffrey Wright in an emotionally charged and tense portrayal of a man outrunning an accidental crime and efforting to regain his estranged family.
For Red Hill Entertainment's Klingenbeck, the movie marks the sixth effort as a producer to hit the silver screen, with several new films in the pipeline with release dates scheduled throughout the next two years. Red Hill's momentum will continue in 2012 with the upcoming action film "2 Guns", starring Mark Wahlberg and Denzel Washington. The company worked in an advisory role for financiers in the $ 80 million picture that was filmed in New Orleans in Summer 2012. "2 Guns" currently has a release date of August 16th this year.
Klingenbeck added, "Red Hill Entertainment is constantly looking to align itself with high-visibility film projects that can be filmed in the Southeast. It's important for us to expose audiences to this beautiful but underutilized area of the country – in terms of film projects – which provides an authenticity to our films as well as benefits the local areas' economies during production."
The 2013 Tribeca Film Festival will be April 17th through the 28th in New York City. "A Single Shot" has an expected theatrical release of Fall 2013.
###
About Red Hill Entertainment:

Formed in 2012 by Alabama natives John Brooks Klingenbeck and Christopher E. Norris, Red Hill Entertainment's focus is on structuring the financial elements of film and new media development. Already with a brimming resume of films to their credit, Red Hill's company mission includes plans to utilize Southern state as film locations to stimulate local economies and to bring attention to the advantage of the area's tax incentive programs.
Red Hill has recently expanded in the area of crowd-sourcing technologies and the distribution of proprietary content over mobile devices. With a focal point upon Southeastern colleges and universities, Red Hill is working with these organizations to realize a substantial amount of new revenue by leveraging their brands with mobile applications.
For more information on Red Hill Entertainment or to arrange an interview with John Brooks Klingenbeck, please contact Harry Long of 81 Shop, LLC at 205 693-8181 or hlong(at)go81shop(dot)com.
http://chiefimplementor.com/wp-content/uploads/2015/11/logo1.png
0
0
Robert Goodman
http://chiefimplementor.com/wp-content/uploads/2015/11/logo1.png
Robert Goodman
2014-04-08 16:07:08
2015-12-30 10:40:02
Red Hill Entertainment Takes "A Single Shot" to Tribeca Film Festival