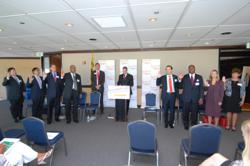 Baltimore, MD (PRWEB) August 31, 2011
Governor Martin OMalley today presided over the official swearing-in of the Maryland Venture Fund Authority (MVFA) members. The nine-member Authority was established to provide advice to and consult with the Maryland Department of Business and Economic Development in connection with the administration of the InvestMaryland Program. The Authority oversees the development of the Programs bidding mechanism that raises investment capital for seed and early-stage companies and selects the private venture capital firms who receive InvestMaryland funding and make investments through the Program, ensuring that all statutory requirements are met.
The Maryland Venture Fund Authority will play a key role in carrying out our comprehensive, long-term strategy for job creation, investment and venture capital growth in Maryland, said Governor OMalley. In these challenging economic times, InvestMaryland will help us continue to provide Maryland businesses with access to capital and support early stage investment companies. Together, we can create jobs and expand opportunity for economic development.
The MVFA is comprised of a diverse group of private sector executives and entrepreneurs, investors, small business owners and educators with experience in IT, bioscience, cyber, manufacturing, financial, advanced technology, education, agricultural, transportation, and non-profit sectors. This seasoned group will guide the States efforts to attract and grow small and early stage investment entrepreneurs and companies throughout Maryland. Earlier this year, aspiring and seasoned entrepreneurs, companies, stakeholders, legislators and government officials helped craft policy, participated in InvestMaryland day which showcased support, entrepreneurs and venture capitalist successes and culminated in the passage of InvestMaryland legislation in May.
Authority members serve staggered three-year terms. Chairing the Authority will be Peter Greenleaf, President, MedImmune. Since joining MedImmune in 2006 as Senior Vice President, Commercial Operations, Greenleaf has overseen the development of the companys global marketing and portfolio organizations, as well as managing the broader commercial corporate development and strategy functions.
Maryland has an impressive legacy of creating an environment that cultivates and advances innovative thinking across many business sectors, among them the local biosciences community of which MedImmune is privileged to be a part, said Peter Greenleaf, president of Gaithersburg-based MedImmune, the global biologics business of AstraZeneca. I am honored and inspired to serve as chair of the Maryland Venture Fund Authority, which marries investment to visionary ideas that can become reality and, eventually, strong economic drivers for the State.
During their inaugural meeting, the Authority deliberated and established guidelines for both the requirements and process for an entrepreneur or venture capital company to seek funds under the States $ 70 Million initiative to spur early seed investment for businesses in Maryland.
Governors Maryland Venture Fund Authority Members *(Bios noted below)

http://chiefimplementor.com/wp-content/uploads/2015/11/logo1.png
0
0
Robert Goodman
http://chiefimplementor.com/wp-content/uploads/2015/11/logo1.png
Robert Goodman
2012-04-12 13:07:21
2015-12-30 11:24:28
Governor OMalley Swears in Members of Maryland Venture Fund Authority at Inaugural Meeting