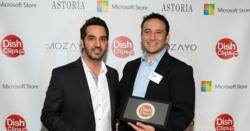 Irvine, CA (PRWEB) March 08, 2012
DishClips, an Orange County startup, took the grand prize of $ 10K as it placed first in the Digital Media category in this years Irvine Entrepreneur Forum, held at the Irvine Hyatt.
The Irvine Entrepreneur Forum (IEF), a signature program of the Irvine Chamber of Commerce, promoting entrepreneurship and economic developments, saw its biggest turnout with over 50 companies participating in its third annual business plan competition. Six finalists competed in the Shark Tank style presentations for the top prizes in digital and general categories. IEF, a gathering of entrepreneurs, venture capital executives, and angel investors, provides a platform for Orange County based startups to showcase their business plans.
DishClips launched its platform in November 2011, catering to diners by hosting HD video clips of food from restaurants. The company is positioning itself as the next-gen platform for restaurant marketing, leveraging the appeal of video and power of social media to help restaurants drive foot traffic by allowing diners to discover and share the dishes with their friends across their social graph. In the short time since its launch, DishClips has acquired 120 customers, including local favorites, The Anaheim White House, Opah Seafood, and Sabatinos. Im a foodie, and eat out a lot. About a year ago, I started to gather a video library of the food I enjoyed. I soon realized there was a demand for rich digital media in the restaurant industry, and DishClips was born, said Tan Rezaei. DishClips will expand into five additional markets and increase our base to 2,500 restaurants in the next 12 months.
Following the IEF, DishClips hosted its official launch event at the Astoria Tower in Irvine. It feels amazing to win, said Navid Firoozi. Weve always known the concept is great. Weve got a fully developed web application, and our customers and users love our offering, but we were up against stiff competition today. Were thrilled and look forward to achieving our next set of milestones, including our mobile applications, coming soon.
Find More Angel Investors Press Releases
http://chiefimplementor.com/wp-content/uploads/2015/11/logo1.png
0
0
Robert Goodman
http://chiefimplementor.com/wp-content/uploads/2015/11/logo1.png
Robert Goodman
2012-04-11 23:07:21
2015-12-30 11:24:29
DishClips Wins Top Prize At 2012 Irvine Entrepreneur Forum