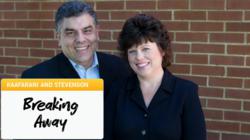 New York, New York (PRWEB) February 13, 2012
InnovationExcellence.com, the largest crowd-sourced innovation website in the world, is featuring an exclusive interview with the creators of a groundbreaking new blueprint for innovation.
Model creators Jane Stevenson and Bilal Kaafarani are innovation pioneers and co-authors of the book "Breaking Away: How Great Leaders Create Innovation That Drives Sustainable GrowthAnd Why Others Fail". (McGraw-Hill 2011)
The interview is available at http://www.innovationexcellence.com/blog/2012/02/13/breaking-away-a-new-way-to-look-at-innovation.
In the interview, Stevenson and Kaafarani discuss the four timeless categories of innovation presented in their book; current trends in innovation; how the uncertainty and contraction of the global economy is impacting innovation; the most profitable type of innovation; and their very best advice to CEOs.
The authors were interviewed by Innovation Excellence Managing Editor Julie Anixter, co-author of "The Big Moo" with Seth Godin, and the former Managing Director of R & D for the Tom Peters Company. The team leadership of Innovation Excellence includes Anixter and two of the worlds leading innovation expertsBraden Kelley and Rowan Gibson.
Stevenson is Vice Chairman, Board & CEO Services at
http://chiefimplementor.com/wp-content/uploads/2015/11/logo1.png
0
0
Robert Goodman
http://chiefimplementor.com/wp-content/uploads/2015/11/logo1.png
Robert Goodman
2012-04-28 08:07:04
2015-12-30 11:20:24
Breaking Away: A New Way to Look at Innovation