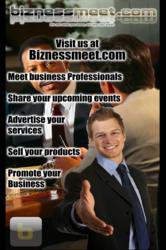 Winston Salem, NC (PRWEB) February 14, 2012
Marketing of businesses in the Digital Age is essential for any company to succeed. The internet and explosive growth of social networking sites have given consumers instant access to global communication, information products and services. Companies who embrace this concept and take advantage of social networking sites can reach thousands of people in a very efficient and cost effective way.
Social networking and business go hand in hand. Word of mouth has always been a very useful way for companies to advertise their products or services. Business and social networking sites such as Biznessmeet.com are the modern day version of word of mouth.
Biznessmeet.com is an innovative and user friendly, virtual community that was created to provide a unique platform for individuals and businesses to connect with each other around the world. Biznessmeet.com is a website that brings together businesses and individuals to share ideas, discuss important topics and assist in selling products and services. It is free to join and by becoming a member, businesses and individuals are brought together in a social and professional perspective and simultaneously.
While Biznessmeet strives to be beneficial to everyone who joins, there are added benefits to being a premium member. Premium memberships are extremely beneficial for businesses and individuals alike. Businesses that upgrade to a premium membership are able to post and share any specials, discounts, promotions and savings with the entire Biznessmeet community. Individuals who upgrade to a premium membership are able to create a more in depth profile that includes their resume and any news or ideas that they would like to share with other members. Premium members can also share their experiences, business reviews, thoughts and opinions in a variety of ways. Features on the site such as Contact Feed, Biz Feed, Biz News and My Reviews are all ideal ways to create and expand a broader social network.
Expand with social media marketing plan with this cutting-edge social network today! Remember its not always what you know, but who you know. For more information please visit: http://www.biznessmeet.com
# # #
http://chiefimplementor.com/wp-content/uploads/2015/11/logo1.png
0
0
Robert Goodman
http://chiefimplementor.com/wp-content/uploads/2015/11/logo1.png
Robert Goodman
2012-04-29 14:07:30
2015-12-30 11:20:21
Biznessmeet.com Announces Social Networking for Marketing in the Digital Age