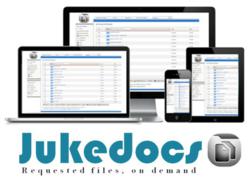 Toronto, Ontario (PRWEB) July 10, 2013
Jukedocs, a cloud-based content management provider, has received an Angel Investment of $ 500,000 to fund ongoing innovation and further consumer driven product advancements.
Jukedocs is a cloud-based software platform that seamlessly integrates with any OS, browser or device. With a simple and user-friendly interface, the solution enables mobile and BYOD users to securely access their files from any endpoint. With no files to download Jukedocs offers users the ability to access very large files over low bandwidth which enables freedom from worrying about expensive data plans for mobile workers and students. For IT departments, Jukedocs delivers enterprise level security features, along with its rapid search with simple keywords, and full sharing of files directly from the platform all while maintaining the original formatting. There is no software to install and no app to download; users simply login through their browsers from any device.
"We can't express enough how grateful we are for support of this magnitude so soon after our initial launch," says Joe Velacich, Co-Founder and CEO of Jukedocs. "Not only is the financial investment important to our success, but the support goes beyond the dollars and cents as it comes with guidance and expertise from the investor. We look forward to further growing our company and the innovations to come with this investment."
"We see many exciting early-stage software companies looking for investment in Canada every week and often the selection process is difficult," says the undisclosed Angel Investor. "Jukedocs has the compelling combination of an excellent product, huge market potential, and exceptional leadership and this made the decision much easier for us. We are pleased to support Jukedocs now and look forward to contributing to their success in the years ahead."
About Jukedocs

Jukedocs was built on the fact that knowledge, ideas and information mean nothing if they can't be shared, and the type of device you choose to share them from shouldn't stop you. The simplicity and ease of use of the software combined with the ability to securely convert, search, access, and make use of information quickly, eliminates the frustration of managing your files. Available via the private or public cloud, the Jukedocs software incorporates best business practices to manage information more efficiently, in a scalable, integrated manner. Headquartered in Markham, Ontario, Canada, Jukedocs is servicing customers worldwide.
Find More Angel Investors Press Releases
http://chiefimplementor.com/wp-content/uploads/2015/11/logo1.png
0
0
Robert Goodman
http://chiefimplementor.com/wp-content/uploads/2015/11/logo1.png
Robert Goodman
2014-02-24 15:07:09
2015-12-30 10:47:02
Silicon Valley Investor Supports Jukedocs with $500,000