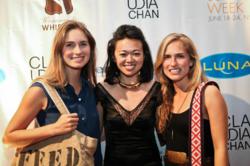 New York (PRWEB) June 06, 2013
The first and only week designed to celebrate and inspire women, S.H.E. Summit Week (June 10-16), is back for its second year with an expanded lineup of global events and a marquee women's leadership and lifestyle conference, S.H.E. Summit (June 14-15).
S.H.E. Summit Week will feature approximately 100 pop-up events designed for and by women held in cities coast to coast — including metropolises like New York, Chicago, Los Angeles, and Atlanta; along with smaller locations like Addison, Texas; Newcastle, Wash.; and Indianapolis — making it a truly national women's week. Worldwide, S.H.E. Summit Week will include events in London, Toronto, Madrid and even Nairobi.
"With Restaurant Week, Fashion Week, Internet Week, Social Media Week and even Shark Week, we have weeks dedicated to celebrating and learning about almost everything under the sun. Yet women, who make up more than half the U.S. population, drive 85 percent of all purchasing decisions, and own more than 8.6 million businesses that generate over $ 1.3 trillion in revenues, had no week to call their own until S.H.E. Summit Week," said Founder Claudia Chan. "S.H.E. Summit Week is an opportunity to showcase and celebrate women's achievements, while offering women a dedicated week to serve their passions and curiosities, while discovering new brands and relationships."
Standing for "She Helps Empower," S.H.E. Summit Week was created by Women's Leadership and Lifestyle Expert Claudia Chan. Her namesake media brand, ClaudiaChan.com, features insightful, inspiring interviews with almost 200 remarkable women leaders, such as Model and Activist Christy Turlingon Burns, Dress for Success CEO Joi Gordon, Philanthropist Jennifer Buffett and Humanitarian Zainab Salbi, along with many emerging women leaders and entrepreneurs who are disrupting business as usual. Through S.H.E. Summit Week, Chan offers women everywhere a chance to connect in person with the female role models and organizations featured year round on her website. Events across the country and worldwide will cover topics that interest women, including networking, entrepreneurship, career development, personal finance, beauty, wellness and causes, giving women a chance to gather in person, learn, celebrate and find inspiration in each other.
Highlights of the S.H.E. Summit Week events include:


An Artful Evening by Uprise Art: Learn how to navigate the often confusing art world with a practical presentation on finding artwork that fits your style, taste, and budget from Uprise Art Founder Tze Chun and a pop-up artwork exhibition by women artists working in New York. (Wed., June 12, 7:30-8:30 p.m. ET at Norwood Club in New York.)
Cycle For Your Heart! by the American Heart Association & Soul Cycle: Join other New York women for a fundraising spin class to raise awareness and funds that support education and research to address the No. 1 and No. 3 killers of women: heart disease and stroke. (Thurs., June 13, 8:30-9:30 p.m. ET at Soul Cycle 77 in New York.)
What Do You Charge? The Fine Art of Pricing Services by Ann Marie Houghtailing: Learn how to leverage your intellectual property and talent to create streams of income instead of endless frustration. (Sat., June 15, 10-11:30 a.m. PT at Hera Hub Sorrento Mesa in San Diego.)
Women of Wall Street by Wall Street Walks: Learn about the women who dared to infiltrate the male-dominated Wall Street industry, like Victoria Woodhull, Hetty Green and Muriel Siebert on this guided tour of the financial district. (Thurs., June 13, 10:30 a.m.-12:30 p.m. ET at the Museum of American Finance in New York.)
Changing the Face of Angel Investing by Pipeline Fellowship: Learn about Angel Investor Christina A. Brodbeck's efforts to increase diversity in the VC and entrepreneurship communities during a special interview with Pipeline Fellowship Founder & CEO Natalia Oberti Noguera. (Wed., June 12, 9-10:30 a.m. PT at The City Club of San Francisco.)
Pamper Me Pretty Spa Party! by Sharon Holistic Living: Learn about the healing benefits of a Certified Pure Essential Oils skin regimen and how essential oils affect mood, emotions, reduce anxiety and interact with body chemistry and body systems. (Fri., June 14, 5:30-7 p.m. CT at TGI Fridays in Chicago.)
Breaking The Taboo around Women, Men & Money by GoGirl Finance: A dialogue about the changing nature of money, power and relationships covering the rise of the female breadwinner, and why financial services still can't talk "female." (Thurs., June 13, 6:30-9 p.m. ET at The Lofts at Prince in New York.)
S.H.E. Summit Week culminates in the transformational S.H.E. Summit Conference, an unprecedented leadership & lifestyle event for women. Taking place June 14-15 in New York's Soho, S.H.E. Summit convenes over 40 remarkable women leaders featured on ClaudiaChan.com for a unique and accessible experience designed to help women lead their most optimal personal and professional lives. During the day, panels and keynote sessions will cover innovation, entrepreneurship, wellness, personal finance and more. In the evening, women influencers will gather for cocktails, networking, discovery, massages, shopping and an amazing gift bag worth $ 100 in the S.H.E. Marketplace. S.H.E. Summit speakers include:
Lubov Azria, chief creative officer, BCBGMAXAZRIAGROUP
Tanya Becker, co-founder, Physique 57
Elena Brower, founder, Virayoga
Gloria Feldt, women's leadership speaker & advocate, GloriaFeldt.com
John Gerzema, author, The Athena Doctrine
Joi Gordon, CEO, Dress for Success
Elizabeth Gore, resident entrepreneur, UN Foundation
Carol Hymowitz, editor at large, Bloomberg News
Rachel Lloyd, founder, GEMS
Cortney Novogratz, co-founder & designer, The Novogratz on HGTV
Anita Sands, chief operating officer, UBS Wealth Management, Americas
Reshma Saujani, candidate for New York City Public Advocate & founder of Girls Who Code
Joanne Wilson, angel investor and blogger, Gotham Gal
"Today's women are doing and accomplishing incredible things, whether running a Fortune 500 company here in the U.S. or working to empower women in Africa to start businesses so that they can support their families," said Chan. "S.H.E. Summit Week is a week for us to come together as women to share and celebrate all of our remarkable accomplishments, find the role models and encouragement we need to pursue our passion, and support each other along all of our journeys."
Information about S.H.E. Summit Week and tickets to the S.H.E. Summit, June 14-15 in New York City, are available at SHESummit.com and on Twitter using #SHESummit. A one-day S.H.E. Summit pass costs $ 199; a two-day pass costs $ 299. Both include access to the daytime panel events and the evening S.H.E. Marketplace. Tickets to only the evening S.H.E. Marketplace events are available for $ 79 (per night). Registration for S.H.E. Summit Week pop-up events varies by organizer. Full details about associated pop-up events are available at http://shesummit.claudiachan.com/attend/. S.H.E. Summit Week is made possible with the generous support of its sponsors, which include:
PRESENTING SPONSOR

The Wall Street Journal
GLOBAL PARTNER

The UN Foundation
PLATINUM SPONSORS    

BCBGMAXAZRIA

Lifetime Television

Lifeway Kefir

LUNA

Weizmann Institute of Science    

Wello
GOLD SPONSORS

85 Broads

GoGo squeeZ

Hanky Panky

KPMG

Michelob Ultra

Scribble to Form
About S.H.E. Summit Week

The leadership and lifestyle event week for women, S.H.E. Summit Week on June 10-16, 2013, brings the experience of ClaudiaChan.com to life. Standing for "She Helps Empower," the worldwide event mobilizes up to 100 pop-up events organized by women-led brands, and culminates in the two-day S.H.E. Summit, a transformational conference for modern women. Designed to help women lead their MOST optimal personal and professional lives, the S.H.E. Summit will convene 1,000 women in New York's Soho, June 14-15, to hear from the remarkable women featured on ClaudiaChan.com. For more information about S.H.E. Summit Week, visit shesummit.com.
About ClaudiaChan.com

This purposeful media brand is designed to ignite women to dream and do big with passion and purpose by sharing the stories and advice of nearly 200 remarkable women, ranging from Model/Activist Christy Turlington Burns and Philanthropist Jennifer Buffett to Fashion Designer Tory Burch and Amex OPEN President Susan Sobbott. The site makes it easy to find specific advice from female role models on over 30 topics, including starting out, entrepreneurship, career transitions, motherhood and wellness — and to discover and engage with women-led causes, companies and events. For more information about Claudia Chan and her namesake media brand, ClaudiaChan.com, visit claudiachan.com.
http://chiefimplementor.com/wp-content/uploads/2015/11/logo1.png
0
0
Robert Goodman
http://chiefimplementor.com/wp-content/uploads/2015/11/logo1.png
Robert Goodman
2014-03-31 01:07:29
2015-12-30 10:41:58
Second Annual S.H.E. Summit Week Expands to Celebrate and