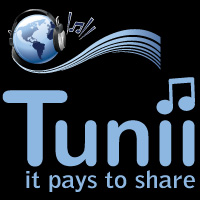 Orange County, CA. (PRWEB) April 09, 2013
Though their initial focus has been on the music industry, Tunii plans to expand its patent-pending technology platform to promote a lot more than just music.
It looks like Tunii will soon help level the playing field for small and independent businesses, artists and entrepreneurs to compete with the "Big Guys". Their promotion platform for music has been turning heads and raising eye brows since the soft launch of their beta site in November of 2012. See http://tunii.com/howto
"What we are building will create a healthy, free market competition that can benefit everyone, including the low budget, no budget and fortune 500 companies", Says newly appointed CEO and Co-founder of Tunii, Keith Harrison "Tunii is building technology that will provide no upfront cost promotion platforms that let the world decide what products are worthy based on the merit of the product, not the marketing budget behind it"    
Tunii has already generated interest from record labels to help promote chart toping and platinum selling "name artists". They have received thousands of song submissions from independent recording artists and one of the largest online distributors of independent music is also showing interest.
"The power of the platform is demonstrated by giving artists and fans around the world the ability to make money by simply sharing the music they love." William Keck, Co-Founder of Tunii adds "We invented a method and technology for crowd sourced promotion that accounts for the full impact of a user's actions, including secondary results that are not otherwise accounted for in other systems. What that means, Tunii users get paid by telling their friends about a great song or product regardless of who buys it. It's just that simple."
Exploring avenues including: song, app, game and book sales, advertising, CD & DVD production services, niche data, merchandise, ticket sales, promotion campaigns, publishing and sync licensing, Tunii's patent-pending technology innovations are set to be a disruptive force in many lucrative digital product markets and beyond.
Like Tunii on Facebook: https://www.facebook.com/TuniiMusic

Follow Tunii on Twitter: @Tuniimusic1

See How Tunii Works: http://tunii.com/howto
http://chiefimplementor.com/wp-content/uploads/2015/11/logo1.png
0
0
Robert Goodman
http://chiefimplementor.com/wp-content/uploads/2015/11/logo1.png
Robert Goodman
2014-03-11 19:07:18
2015-12-30 10:45:49
Revolutionary New Crowdsourcing Tech Start up, Tunii.com A Disruptive Idea in Lucrative Markets