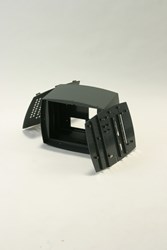 White Bear Lake, MN (PRWEB) November 19, 2013
After looking at the wide array of products Envision Plastics custom manufactures, one can easily see that the NMR plastic fabrication technology reaches many markets and industries. However, the realm of medical device manufacturing stands out as a market who has embraced this niche product and service offering from Envision Plastics time and time again.
Customers from all over the United States and Canada have used the No Molds Required Technology for their custom plastic enclosure needs with respect to their medical device cases, frames, panels, or displays. Within the medical device industry, many specialty areas have implemented NMR produced items. These include: ultrasound, MR, wound therapy, pharmaceutical packaging, cardiovascular, and even dental. The medical device manufacturers in these areas are both small start-ups using venture capital funding as well as Fortune 500 firms including Boston Scientific, St. Jude Medical, Medtronic, and GE Medical Systems.
Despite typical production volumes being low (which fits the NMR niche market well), orders are consistent and often repeat. Not only do the specific part orders for enclosures repeat, but the technology is utilized again and again by developers at these medical device firms. Some firms have developed dozens of different plastic medical enclosures over the span of a decade – proving just how well NMR has been received in the medical industry. Sure, some medical device manufactures have large budgets for hard goods and R&D. However, saving up to $ 250,000 on a mold by using NMR Technology can make any project come in under budget!
http://chiefimplementor.com/wp-content/uploads/2015/11/logo1.png
0
0
Robert Goodman
http://chiefimplementor.com/wp-content/uploads/2015/11/logo1.png
Robert Goodman
2014-01-18 01:07:13
2015-12-30 11:00:05
Medical Device Manufacturing Engineers Realizing Effectiveness of a New Plastics Fabrication Technology Announces Envision Plastics