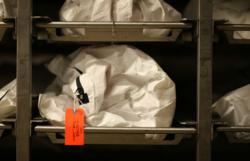 New York, NY (PRWEB) February 15, 2012
Every year since 2001, no less than 150 mummified and decomposed bodies of illegal immigrants have been discovered in remote areas of Arizonas Sonoran Desert. With his latest work "Left Behind" documentary photographer Jonathan Hollingsworth delivers a sobering look at the illegal immigrants who do not survive the Arizona border crossing and the personal effects they have left behind.
To drive the transformation of the work into book form, a Kickstarter campaign with video (http://kck.st/wPJ7cI) for "Left Behind" has been launched.
The series takes the viewer on a journey through the day-to-day operations of the Pima County Forensic Science Center in Tuscon, AZ, which faces the task of analyzing and storing the border crossers' remains, archiving their possessions and, hopefully determining their identities. Attention is also given to Green Valley, AZ through the examination of belongings left on the desert floor by migrants awaiting road-side pick-up at night.
This book is important for a number of reasons, said Jonathan Hollingsworth, creator of the project. It is a way of humanizing the immigration issue we face in our country. It points to how desperate these individuals are to escape their circumstances and start a new life. Essentially this book stands as a kind of memorial to people who died alone, without ceremony and who often are still unknown.
Betting on the promise of crowd-sourced funding through Kickstarter, the first edition of "Left Behind" will include 1,500 9×12 casebound copies, spanning 112 pages with 65 four-color plates, in the fall of 2012.
About the Artist

Jonathan Hollingsworth is a documentary and fine art photographer in New York City. His work has been exhibited across the United States and has been published in The Sunday Times Magazine (UK), Photo District News and GUP. Follow him on Twitter @HollingsworthJD and join the conversation with #LeftBehindBook.
# # #
http://chiefimplementor.com/wp-content/uploads/2015/11/logo1.png
0
0
Robert Goodman
http://chiefimplementor.com/wp-content/uploads/2015/11/logo1.png
Robert Goodman
2012-04-27 10:07:57
2015-12-30 11:22:39
Illegal Immigration in Arizona Comes into Focus