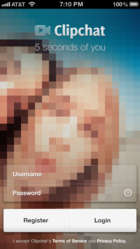 Menlo Park, CA (PRWEB) May 30, 2013
Iddiction, a developer of mobile applications, announced today the release of Clipchat™, a whole new way to share photos and videos with your smartphone. With Clipchat, users can share private, 5 second videos or images with friends or followers. Videos or images shared via Clipchat are encrypted and disappear forever after they are viewed.
Clipchat introduces a unique take on ephemeral messaging through a content discovery mechanism called Clipchat Feed™. With Clipchat Feed users can receive a random message from friends or post a random message for friends or followers to discover. Clipchat Feed allows for serendipitous discovery of people and content in a way that's never been done before.
Clipchat is the simplest, fastest and most secure way to share life's private moments with the people you care about. Clipchat uses industrial-strength encryption to make sure messages are always safe and secure. And with Clipchat Feed, users can meet new people and develop deeper relationships with existing friends.
"We're thrilled to be introducing Clipchat today. Life is all about amazing, simple moments that get lost in time. We built a way to share those slices of life with other people, and our proprietary encryption of these messages allows for total peace of mind" said Andrej Nabergoj, founder and CEO of Iddiction, Inc. "Previously people using ephemeral messaging couldn't be certain that their private content would remain that way after being viewed. With Clipchat, privacy and security is our top priority, so that users can share what they want without the worry."
Clipchat offers users the following amazing features:


Share 5 second videos or images that disappear forever
A new content discovery mechanism called Clipchat Feed
Industrial-strength encryption to keep your content private
An incredibly elegant design and user experience
Clipchat is available for free on the App Store: http://itunes.apple.com/app/clipchat/id587653192
Learn more about Clipchat on the web at clipchat.com, on Twitter at twitter.com/clipchat or on Facebook at facebook.com/clipchat.
About Iddiction
Iddiction, Inc. is focused on creating and enabling new mobile media experiences. The company is backed by Signia Venture Partners, Comcast Ventures, IDG Ventures, Highland Capital Partners, Felicis Ventures, and several angel investors.
Related Angel Investors Press Releases
http://chiefimplementor.com/wp-content/uploads/2015/11/logo1.png
0
0
Robert Goodman
http://chiefimplementor.com/wp-content/uploads/2015/11/logo1.png
Robert Goodman
2014-04-20 20:07:43
2014-04-20 20:07:43
Iddiction Launches Clipchat, Ephemeral Messaging 2.0