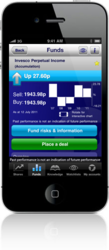 Bristol, UK (PRWEB) September 08, 2011
Hargreaves Lansdown has launched its unique mobile app to meet the increasing demand for mobile access to websites and online services. The HL Live mobile app is the only app which allows investors to view their ISA, SIPP and other investments, and trade funds and shares, on both iPhone and Android systems. Danny Cox, Head of Advice, Hargreaves Lansdown
Tom McPhail, Head of Pensions Research: The app will support our private clients, employees of our corporate wrap clients and encourage a new generation of investors who will consider mobile access a necessity. The solution to the pensions crisis lies in investor engagement; Hargreaves Lansdown is making it easier for investors to engage with and manage their long term savings.
The app has already been downloaded over 12,000 times since its launch in August.
Over a quarter of adults (27%) and almost half of teenagers (47%) now own a smartphone, according to Ofcoms latest Communications Market Report. There has also been a forty-fold increase in the volume of mobile data transferred over the UKs mobile networks between 2007 and 2010 and a 67% increase in 2010 alone.
2010 saw a large migration of customers from pre-pay to contract mobile phone services. At the end of 2010, 49% of mobile subscriptions were contract, compared to 41% a year previously. This is attributed in a large part to the popularity of smartphones.
Hargreaves Lansdown has seen a 236% increase in people accessing our website from a smartphone or iPad, and some investors opening ISA accounts through a mobile device.
There are 425,000 apps on iTunes App store and 15 billion have been downloaded up to July 2011 (source: Apple).
HL Mobile App features


Secure login to ISA, SIPP, Fund and Share Vantage accounts
Fund, share and ETF dealing
Prices, news and research
Interactive performance charts
Personalised fund and share watchlists
It's FREE
http://chiefimplementor.com/wp-content/uploads/2015/11/logo1.png
0
0
Robert Goodman
http://chiefimplementor.com/wp-content/uploads/2015/11/logo1.png
Robert Goodman
2012-04-11 13:07:14
2015-12-30 11:24:31
HL Live the new investment mobile app for iPhone and Android from Hargreaves Lansdown. You can now manage ISA, pension, funds and shares on your mobile.