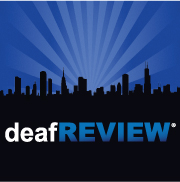 Seattle, Washington (PRWEB) April 01, 2013
Deaf-friendly businesses are no April Fool's joke: Seattle-based deafREVIEW (http://deafreview.com/), a community-led search and review site for deaf-friendly businesses, today announced the availability of deafREVIEW® in New York, NY, Rochester, NY, and Metro Washington, D.C.
Visitors and residents can now digitally rate and review the deaf-friendliness of businesses in these cities and 60-miles surrounding the city center. Three new city platforms have gone live today, showcasing 60+ new business reviews including a deaf-friendly camera repair shop, a deaf-friendly hospital, a deaf-challenged Citibank, and even the deaf-challenged American Museum of Natural History among many others.
Debuting in Seattle approximately one year ago, deafREVIEW also launched in California (San Francisco, Los Angeles, and San Diego) last October. It has built a solid West Coast presence as well as 5,000+ unique monthly site visitors and 3,175 Facebook fans nationally.
"Today is an exciting day for all deaf, deaf-blind and hard of hearing consumers coast to coast. When we launched in Seattle last year, we weren't expecting such an enormous response from our East Coast fans!" said deafREVIEW founder and CEO Melissa "echo" Greenlee. "People are hungry to share their consumer experiences (good and bad) and desperate for businesses to start acknowledging and improving their customer service for our unique consumer needs. I am happy to expand our review potential to three highly deaf-populated cities."
deafREVIEW analyzed factors like reputable deaf schools, ample deaf and deaf-blind social services, and a thriving Deaf social/cultural scene.
"New Yorkers are notoriously busy, and sometimes we can't get to see each other enough," explained Guthrie Nutter, the new Review Coordinator for NYC. "This is a great way to share information from the comfort of our own computers!"
Half of the Facebook fans who participated in an ongoing poll voted to launch in Rochester, NY (home to deaf students of Rochester Institute of Technology and National Technical Institute of the Deaf). Five hours south, New York City is home to seven prominent deaf schools as well as diverse organizations like Metropolitan Asian Deaf Association, New York City Black Deaf Advocates and the Beth Torah of the Deaf.
Michael Cooper, a former New Yorker, said: "One-eighths of the entire U.S. population alone lives in the greater NYC Metro. Can you imagine the infinite opportunities to educate hearing people about Deaf needs in the Greater NYC Metro through deafREVIEW?"
With one of the largest concentrations of deaf/hh people in the nation, Metro D.C. (which includes Virginia and Maryland) is also full of reviewer potential. Metro D.C. is home to Gallaudet University, the world's only Deaf Liberal Arts college. Even hearing residents check Gallaudet's online calendar to partake in Deaf Culture events.
Business owners can enjoy access to many free educational resources (such as the ASL Manual Alphabet, and information about tax credits and deductions). To learn more, check out Recent Reviews and deafREVIEW News (http://deafreview.com/deafreview-news/) for weekly content about Deaf Culture topics.
About deafREVIEW

deafREVIEW is a web site that connects people to deaf-friendly businesses. Taking root in Seattle, it is new face of crowd sourcing: Bringing awareness to deaf-friendly businesses, and corrective feedback to "deaf-challenged" businesses. Reviewers fit a number of categories: deaf, deaf-blind, hard of hearing, friends/family of the deaf and those with a special interest in creating a deaf-friendly world. Shared insight and corrective feedback on a much-needed public platform is what slowly improves the consumer experience as well as businesses' customer service. We invite you to write consumer reviews, so that we can increase deaf-friendliness in millions of businesses across the nation. For more information, please visit http://www.deafreview.com or send an email to press(at)deafreview(dot)com
Related Crowd Sourcing Press Releases
http://chiefimplementor.com/wp-content/uploads/2015/11/logo1.png
0
0
Robert Goodman
http://chiefimplementor.com/wp-content/uploads/2015/11/logo1.png
Robert Goodman
2014-04-12 16:07:44
2015-12-30 10:39:53
Eastward, Ho! deafREVIEW Launches in NYC, Rochester, and Metro D.C.