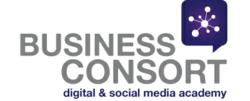 (PRWEB UK) 12 February 2013
Business Consort – The Digital and Social Media Academy launch new Professional Certificate in Digital and Social Media Marketing.
This newly available award has been developed to help busy professionals fast track knowledge and skills in digital and social media marketing in just one day.
Linkedin surveyed more than 7,100 professionals around the world and found that most professionals don't want a new job, they want to learn new skills in the new year.
With this in mind it is important to ensure that those involved in promoting, marketing, generating leads and sales in the business have the right skills to harness the power of digital and social media marketing.
Business Consort already provides an array of Chartered Institute of Marketing Accredited Social Media and Digital Marketing Training Courses including the CAM Diploma in Digital Marketing.
They decided to bridge the gap between the shorter online and face to face social media courses they offer to the Diploma in Digital Marketing that requires coursework submission although no exams and takes 6 months to a year to complete.
The dynamic award will provide businesses with knowledge underpinning the principles of digital marketing and skills to undertake digital marketing planning in just one day through a face to face course in either Business Consort's London or Manchster venues.
Digital marketing has evolved from a peripheral element of organisational marketing to one which is at the hub of customer-centric communications in an increasingly multi-channel environment.
The qualification will ensure businesses are equipped to deal with this shift and make the most of the new business opportunities on offer.
Delegates will have the opportunity to gain skills and knowledge to understand the fundamental planning concepts for an online organisation as well as key factors in implementation, measurement and evaluation of successful campaigns.
On completion of the one day course delegates will receive a certificate
The new qualification is designed for those wanting to work in marketing or marketing professionals who want to specialise knowledge & understanding of what digital marketing is & how it relates to the marketing industry & turn that knowledge into successful marketing strategies.
No matter the role in the company business people will benefit from gaining insight into today's digital arena.
Business Consort – The Digital and Social Media Academy have trained some of the world's largest Global brands across most industries.
This innovative digital and social media academy specialise in consumer and business-to-business social media and digital marketing campaigns.
They offer topics such as Social Media Training including Facebook, Twitter, Linkedin, other networks such as Pinterest, Google, Youtube and Stumbleupon, Email Marketing, Blogging, QR codes, Mobile Websites and SEO (search engine optimisation).
Businesses can attend social media online training courses all over the world as well as face to face courses in our Manchester and London locations.
For full details of the social media training courses we offer visit http://www.thesocialmediaacademy.org
http://chiefimplementor.com/wp-content/uploads/2015/11/logo1.png
0
0
Robert Goodman
http://chiefimplementor.com/wp-content/uploads/2015/11/logo1.png
Robert Goodman
2014-01-22 20:07:19
2015-12-30 10:59:52
Business Consort - The Digital and Social Media Academy Launch New Professional Certificate in Digital and Social Media Marketing